Becoming a single foster parent
We have many single foster parents in our team who are doing extraordinary work -  men and women, some single parents too!
While it's true that many foster parents are married, co-habiting or in long-term partnerships, it's absolutely not a requirement. What matters most to us is that you have the qualities needed to become a foster parent and are able to give a child a loving, nurturing home - so we welcome applications from everyone, including single people of any gender, heterosexual or gay. And if you already have children of your own, that's fine too.
All we ask is that, as for everyone else, you're over 21, have a spare bedroom in your house and have the legal right to live and work in the UK.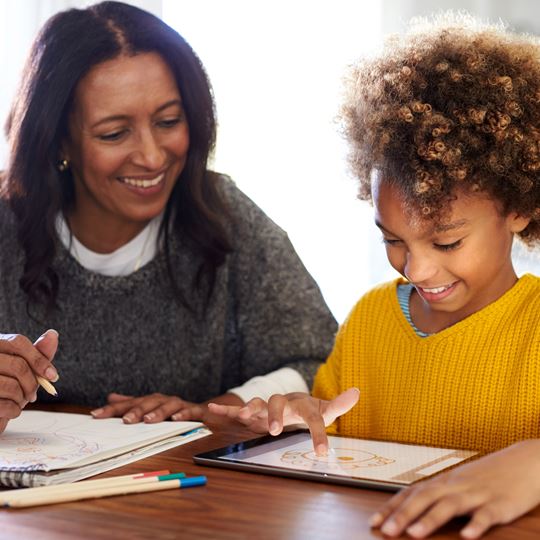 Things to consider as a

single foster parent...
There's no doubt that fostering as a single person presents unique challenges and can be a little tougher without the support of another person close at hand.
Do you have the time to dedicate to fostering?
Fostering is a full-time career - you'll be caring for a child around-the-clock and will need to be around if there's ever an emergency, such as collecting a poorly child from school and looking after them until they're better, plus attend meetings and ongoing training throughout your career.
Many single foster parents choose not to work - or find a part-time role that's flexible - and we pay a generous allowance, which is designed to cover the cost of caring for a child and provide you with a professional fee too.
Do you have any experience with children?
It's not essential but it's helpful, even if it's just looking after nieces or nephews. We just need to know that you understand the challenges and demands of caring for children. No experience? No problem, our training and support can work wonders for your confidence and skills.
Do you have a support network you can rely on?
Although you'll have support from a team of professionals and other foster parents, it's equally important that you have a strong and reliable network of close friends and family that you can call on for help, when you need to.
Who can become a foster parent?
Almost anybody can apply to become a foster parent - the only initial requirements are that you're over 21 years old, you have the legal right to work in the UK and that you have a spare bedroom that's always available to a child in your care. Of course, you'll also need to be kind, caring and dedicated to making a difference to a child.
Other than that, we welcome applications from people from all backgrounds, religions and ethnic groups. You can be gay, straight, bisexual or transgender, single, married or cohabiting. We also support foster parents with disabilities and health conditions, who are able to meet the needs of children in care.
So if you've ever wondered whether you could foster - we can't encourage you enough to take the first step and speak to our friendly team.
Can single people from the LGBTQ community foster?
Absolutely – we have many single foster parents and your gender and sexual identity doesn't make a difference to your ability to provide a child with a safe, loving environment. Of course, you'll need to undergo a full fostering assessment before becoming approved and having a child placed in your care.
How do you become a foster parent?
The first step is to have a chat with one of our friendly advisors - either complete our online form or give us a call on 0800 369 8512. We'll speak to you about the role, take a few details and answer any of your questions.
When you're ready to progress, there's a standard application and assessment process that you'll need to go through to become an approved foster parent, including home visits, background checks and references, training and attending a fostering panel. You can find out more about each step below.
Can foster parents claim child benefit?
Child Benefit is means-tested, so will be dependent on your income and can only be claimed on your own children, not any children you have in placement.
Discover everything you need to know about fostering by downloading our brochure, including;
Types of fostering

Requirements to foster

Application process

Training and support

Allowances and benefits
Fill out your details on the following form and you'll receive our Guide to Fostering. 
Can't find what you're looking for?
By phone
One of our team is available to talk to you over the phone to answer any of your fostering queries.
Enquire online
You can get in touch by filling out our online enquiry form with any queries that you may have.
Your local team
Find contact details for your local office team. We're always happy for you to pop-in and chat.