"The difference you can make to a child's life is just truly immeasurable"
Richard shares his experience as a single foster parent and caring for a vulnerable young person during a pandemic.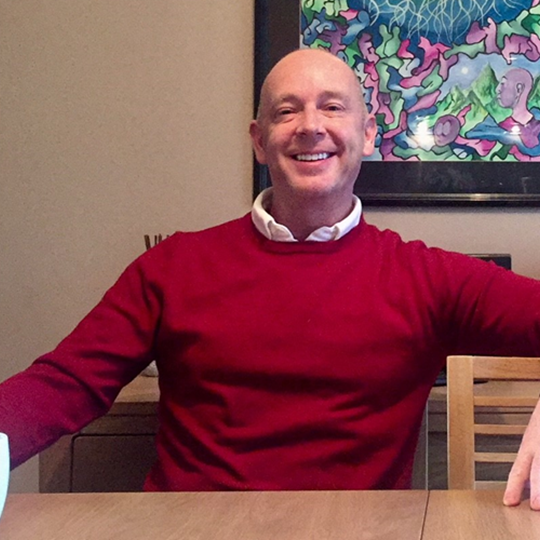 Beginning his fostering experience only three years ago, Richard decided to embark on a new journey, leaving his job in the automotive industry to start a new walk of life as a single foster parent.
From very early on in Richard's life, the 52-year-old was surrounded by kindness and had a good understanding of the care sector. Growing up with a mother who worked as a nurse, they often looked after children in care who stayed at the family home. Alongside this, Richard also witnessed first-hand the positive impacts of fostering, as one of his best friends of 50 years grew up in care.
Richard said fostering has allowed him to hit the brakes on life. "I was a workaholic but thankfully fostering has allowed me to slow down and offer support to children who need it the most. Many of my friends were initially shocked when I told them I was changing my career, but now say it has been my calling in life. It is very refreshing to hear this and have the support from my friends and family."
In 2019, Richard started caring for Jacob*, who came to live him when he was just eight years old and now a year and half down the line, he says the positive changes since then have been outstanding. Prior to Richard, Jacob* had been with different families for nearly two years, which separated him from his sibling. He is now settled with Richard and enjoying life as an only child.
"Fostering is not an easy journey but it is worth it." Richard added: "Having had no children before, you do doubt yourself. Many people think just because they don't have children they won't be as good or as supportive, but that couldn't be further from the truth."
Not long after welcoming Jacob* into his home, lockdown hit the family of two. In an unexpected turn of events, Richard expressed how lockdown has been beneficial to their relationship and has actually acted as a catalyst to Jacob's* development.
Struggling to adjust to school life, homeschooling has been a great alternative for Jacob*. Richard explains how it's actually allowed Jacob* to excel both educationally and in his mental health. "I found education hard as a child so I can sympathise and relate with him. I do feel that the whole experience has allowed us to grow closer as father and son."
"He started calling me 'Dad' a few months ago, which is so lovely to hear as it is a huge milestone for us."
With the uncertainties of lockdown restrictions across the country, Richard said one of the main pieces of advice for all foster parents is to take breaks, get outside and ensure you have a good support network around you.
Since moving to a new house, the pair now live not only closer to the beach which makes for wonderful evening walks together, but they are now also closer to Richard's family that has also brought a number of benefits.
"I have a very supportive family who live nearby, so that's been very beneficial. Jacob* is very close to my sister and refers to her as his aunt which is very lovely."
When Covid-19 restrictions allowed, every Sunday Jacob* would spend a day with his auntie and cousins. Although the lockdown has brought Richard and Jacob closer, Richard also expressed the importance of taking time out. "The breaks are not only good for me to rest, but it is also great for Jacob*. It really allows us both to have that time to miss each other, especially as we're together 24/7 at the moment."
Fosterplus findings have shown that there is a rise of single people enquiring about fostering, but Richard feels that this group can be overlooked. "I feel that many people think that in order to be a foster parent, there needs to be two of you, which is not the case, you can be a single female or a single male, as long as a child has a loving parent".
"In many ways, I feel that being a single parent can almost offer the child more. I can give my full attention to my boy, and I wouldn't have it any other way."
A key piece of advice that Richard would give to those looking to become a foster parent is: "It is very rewarding. Being able to see the impact you have had on a child's life is immeasurable."
Getting out and staying active is something Richard lives by. "When Jacob* arrived in my care, he had never really experienced being around other children, spending most days alone, no friends and no activities."
After discovering Jacob* was prevented to participate in school activities due to his behaviour, Richard said, "I realised he was having these meltdowns because he hadn't experienced any exercise before and couldn't achieve what he wanted to quickly. But if you aren't able to participate how will you learn". Richard added, "I set out and enrolled him in a number of activities four to five times a week. From swimming, boxing, trampolining to gymnastics, because he'd never had that chance to socialise with other children before."
Some of the duo's best memories to date have been cycling together, going for walks along the beach, and even attending the gym together. "He loves to be a part of whatever I am doing. For example, I was painting the house and he wanted his own brush just so he could be a part of it. I think involving children in activities where they can learn a skill can do wonders for their mental health."
During the first lockdown, Richard stated how fortunate they were to still have been able to attend the local charities; Forest School and Urban Nature Retreat. As an animal and nature therapy centre, Richard has sung their praises as they continued to provide his son with an outlet and positive experience of the outside in such a difficult time.
"I do feel that without lockdown I would still be getting calls from the school saying that he is struggling. The silver lining in all this that I do feel he has grown and excelled in all aspects of his life which has allowed us to become best friends."
No two days are the same. Richard said, "It is a full-time job and there are some days which are hard, so you have to be prepared for the pitfalls. I truly believe the benefits of fostering far outweigh the pitfalls, especially as the difference you can make to a child's life is just truly immeasurable."
If you would like to learn more about being a single foster parent, why not each in touch. One of our team members would love to tell you about the process, our support package and generous fostering allowances to help you decide if it's right for you.
You may also find interesting...
Can't find what you're looking for?
By phone
One of our team is available to talk to you over the phone to answer any of your fostering queries.
Enquire online
You can get in touch by filling out our online enquiry form with any queries that you may have.
Your local team
Find contact details for your local office team. We're always happy for you to pop-in and chat.