"I wasn't ready not to be a mum anymore."
Alison is a mother and a grandmother. She started her fostering journey in 2017 and has had several young people in her care over the last 6 years.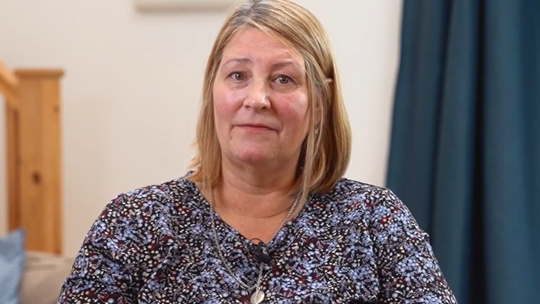 57-year-old Alison is a mother and a grandmother. She started her fostering journey in 2017 and has had several young people in her care over the last 6 years.  She's delighted to share her experience of becoming a foster parent so far.
After her children had left home, Alison found herself wanting to give her love and time to someone in need and began the process of looking into fostering.
Having an empty nest at home with her children all grown up, she decided it was the right time in her life to start fostering, and explained: "Unfortunately my relationship broke down and all my life plans changed. Suddenly, I was all on my own and my children had left home… so I decided to look up fostering."
Speaking about her previous work experience, Alison told us about her time caring for the elderly and how she feels as though the skills she learned in the role, as well as her love of interacting with residents and their families, had set her up for her new role as a foster parent.
"Having a big family myself, I've always had family around. So, when my partner and I split up and it was just me on my own, it was just such a change. I wasn't ready to not be a mum anymore."
Alison spoke of the way she helps settle children into her home: "Talking is a great way to connect with a child – finding out their interests can really help them to be at ease in a new home such as giving them some dinosaur teddies for their room, if you know they are interested in dinosaurs."
"It's important to show them what a family is all about; taking them for days out and giving them experiences in life. Overall, it's about showing them love and that you care for them."
As a single woman in her late 50s and with her own children all grown up, she now has the time and focus to devote to someone who needs to be loved.
We asked Alison what she felt the most rewarding part of her job is, she explained: "For me, the most rewarding part is seeing the children achieve. When they first come to you, often these children are quite broken; and to see them become happy children it really makes you feel good."
The consummation of Alison's life experiences meant that she is now in the best position she could be to be a great foster parent to the children in her life. Her life's work means that she has fantastic transferable skills for fostering, along with the knowledge that she loves to care for others.


If you would like to learn more about fostering, get in touch with us today. Or read more about becoming a foster parent to find out more about the process and what's involved. 
You may also find interesting...
Can't find what you're looking for?
By phone
One of our team is available to talk to you over the phone to answer any of your fostering queries.
Enquire online
You can get in touch by filling out our online enquiry form with any queries that you may have.
Your local team
Find contact details for your local office team. We're always happy for you to pop-in and chat.