Is there an age limit for foster parents?
To become a foster parent, you have to be aged 21 or over. And that's pretty much the only age requirement.
There's no upper limit, so long as you're physically fit and have the energy and commitment to be able to care for children and young people. Our foster parents come from a real mix of age groups, younger and older, but they all have the same caring qualities.
During your fostering assessment, we will ask you to complete a medical examination with your GP. This will look at both your physical and mental health to check that you're fit and healthy enough to meet the needs of a child, and that the demands of fostering won't have a negative impact on your own health.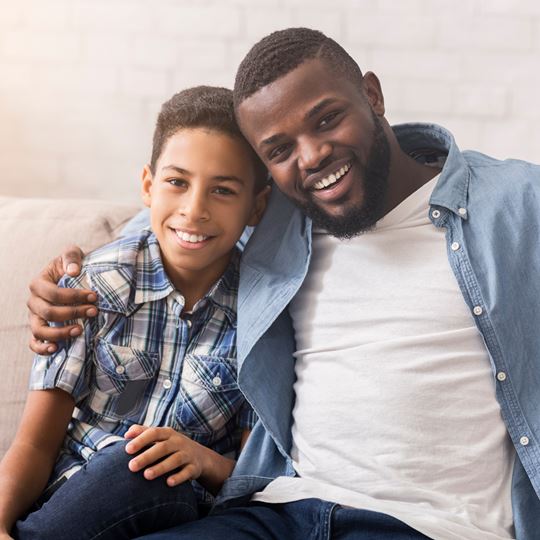 Younger foster

parents
Younger people are under-represented in the world of foster parenting, however, we believe they have so much to offer to children in care. According to a 2015 national survey, just 4% of all foster parents were aged 34 or less.
We understand the reasons (work and social life, mainly) but it means a lot of children are missing out on the care and support of people who are close to them in age and can offer them a safe, loving home.
On the other hand, fostering has a great deal to offer younger foster parents too, including a truly worthwhile career with long-term training and development potential, plus a competitive financial package too.
Who can become a foster parent?
Almost anybody can apply to become a foster parent - the only initial requirements are that you're over 21 years old, you have the legal right to work in the UK and that you have a spare bedroom that's always available to a child in your care. Of course, you'll also need to be kind, caring and dedicated to making a difference to a child.
Other than that, we welcome applications from people from all backgrounds, religions and ethnic groups. You can be gay, straight, bisexual or transgender, single, married or cohabiting. We also support foster parents with disabilities and health conditions, who are able to meet the needs of children in care.
So if you've ever wondered whether you could foster - we can't encourage you enough to take the first step and speak to our friendly team.
How do you become a foster parent?
The first step is to have a chat with one of our friendly advisors - either complete our online form or give us a call on 0800 369 8512. We'll speak to you about the role, take a few details and answer any of your questions.
When you're ready to progress, there's a standard application and assessment process that you'll need to go through to become an approved foster parent, including home visits, background checks and references, training and attending a fostering panel. You can find out more about each step below.
How long does it take to become a foster parent?
Can't find what you're looking for?
By phone
One of our team is available to talk to you over the phone to answer any of your fostering queries.
Enquire online
You can get in touch by filling out our online enquiry form with any queries that you may have.
Your local team
Find contact details for your local office team. We're always happy for you to pop-in and chat.