Help prepare a teenager for adulthood
There are many vulnerable teenagers living in foster care, who need the unconditional love and support of a foster parent to give them the confidence and skills they need for independent living. Could this be you?
Mention teenagers to any parent and they'll probably roll their eyes in resignation. We all know what they're like, because we've all been there ourselves. All those hormones and a growing sense of independence mean they're going through a key and challenging stage of their development.
Teenagers in foster care are experiencing all of this, whilst also trying to work out who they are and understand what's happened to them in the past. So fostering teenagers can bring real challenges, but it also offers huge rewards. The stability and support foster parents provide at this important stage of their lives can have a far-reaching impact and help them develop into caring, confident and independent adults.
It's also not necessarily as challenging as you might think. For example, teenagers are more independent, can care for themselves in terms of life skills and hygiene and are also mostly in full-time education. As a result, they generally need less hands-on supervision than other children.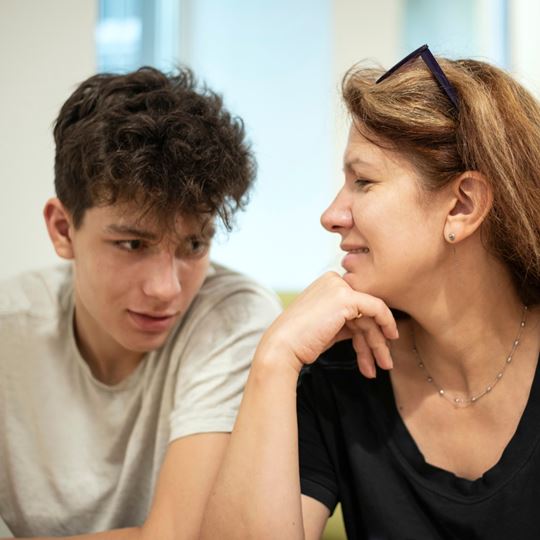 Responsibilities of foster parents of

teenagers
The key responsibility is to offer stability and help them reach their potential in adulthood. This includes:
Encouraging them to develop important life-skills
Making sure they get the most out of education
Helping them deal with the issues of being a teenager, including their emotions and feelings
Maintaining contact with their birth parents to provide continuity in their life
You won't be doing this all on your own. The entire team at Fosterplus will be there to offer guidance and support to help you.
What are the different types of fostering?
We offer many different types of fostering so we can continue to meet the ever-changing needs of children and young people in foster care. These include short-term or interim care (up to 2 years), long-term or permanent care (more than 2 years and until the child turns eighteen), emergency, respite and more.
We also provide foster care placements that are considered specialist, including parent and child fostering and caring for children with disabilities or those seeking asylum. Learn about the different types of fostering below.
Who can become a foster parent?
Almost anybody can apply to become a foster parent - the only initial requirements are that you're over 21 years old, you have the legal right to work in the UK and that you have a spare bedroom that's always available to a child in your care. Of course, you'll also need to be kind, caring and dedicated to making a difference to a child.
Other than that, we welcome applications from people from all backgrounds, religions and ethnic groups. You can be gay, straight, bisexual or transgender, single, married or cohabiting. We also support foster parents with disabilities and health conditions, who are able to meet the needs of children in care.
So if you've ever wondered whether you could foster - we can't encourage you enough to take the first step and speak to our friendly team.
How do you become a foster parent?
The first step is to have a chat with one of our friendly advisors - either complete our online form or give us a call on 0800 369 8512. We'll speak to you about the role, take a few details and answer any of your questions.
When you're ready to progress, there's a standard application and assessment process that you'll need to go through to become an approved foster parent, including home visits, background checks and references, training and attending a fostering panel. You can find out more about each step below.
How do local authorities place children with families?
When a child comes into foster care, the local authority becomes responsible for their health, safety and wellbeing, and while local authorities have their own 'pool' of foster parents, sadly they generally don't have enough to cope with the rising number of children needing a foster home. That's where specialist independent fostering agencies, like Fosterplus, come in.
We work with local authorities across England and Scotland, and receive hundreds of referrals every day. Our dedicated referrals team review each referral and identify any foster families who could meet the child's needs. If all parties agree - the foster parents, their Fosterplus social worker and regional manager, and the local authority - then we'll work closely with the local authority to make arrangements. Wherever possible, this will also include initial introductions between the child and family.
Can't find what you're looking for?
By phone
One of our team is available to talk to you over the phone to answer any of your fostering queries.
Enquire online
You can get in touch by filling out our online enquiry form with any queries that you may have.
Your local team
Find contact details for your local office team. We're always happy for you to pop-in and chat.