Help prepare a teenager for adulthood
There are many vulnerable teenagers living in foster care, who need the unconditional love and support of a foster parent to give them the confidence and skills they need for independent living. Could this be you?
Mention teenagers to any parent and they'll probably roll their eyes in resignation. We all know what they're like, because we've all been there ourselves. All those hormones and a growing sense of independence mean they're going through a key and challenging stage of their development.
Teenagers in foster care are experiencing all of this, whilst also trying to work out who they are and understand what's happened to them in the past. So fostering a teenager can bring real challenges, but it also offers huge rewards. The stability and support foster parents provide at this important stage of their lives can have a far-reaching impact and help them develop into caring, confident and independent adults.
It's also not necessarily as challenging as you might think. For example, teenagers are more independent, can care for themselves in terms of life skills and hygiene and are also mostly in full-time education. As a result, they generally need less hands-on supervision than other children.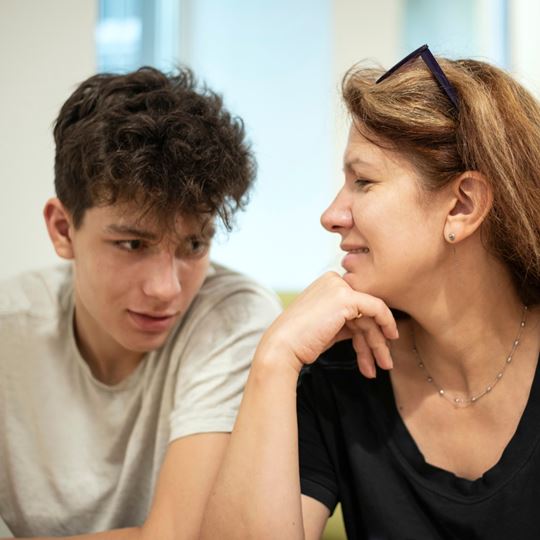 Responsibilities of foster parents of

teenagers
The key responsibility is to offer stability and help them reach their potential in adulthood. This includes:
Encouraging them to develop important life-skills
Making sure they get the most out of education
Helping them deal with the issues of being a teenager, including their emotions and feelings
Maintaining contact with their birth parents to provide continuity in their life
You won't be doing this all on your own. The entire team at Fosterplus will be there to offer guidance and support to help you.
Why foster teenagers?
Without solid family foundations and a good role model, teenagers may leave the foster care system without being properly equipped for adulthood. Through no fault of their own, they could face a raft of challenges, such as homelessness, poverty, poor mental health, and drug and alcohol abuse, among other things. But with the love and guidance of a foster family, teenagers are given the skills and confidence they need to build a better future.
As well as preparing a young person for adulthood and all the rewards that brings, there are lots of other reasons why you should consider fostering a teenager.
Just like any other teenager, they just want somebody to care for them - sadly, many young people in care will not have experienced this before, and may try to push you away. But if you can gain their trust and show them that you'll be there no matter what, then you could help turn their life around.
Teenagers are often more independent - this can often be a great benefit to those individuals who wish to make a big difference to a young person but would also like to continue working while fostering.
Teenagers can become the 'big brother' or 'big sister' - we've seen some lovely bonds shared between birth children and foster teenagers, where younger children look up to them.
You'll never be on your own – you'll have a professional team around you to make sure you receive the support you need to help the young person flourish in your care.
How long is the placement?
The length of time that you may care for a teenager depends entirely on their individual care plan. For example, if they're 16-years-old or over, it's likely that they'll need a short-term fostering placement (up to 2 years). However, if they're placed with you before they turn sixteen, they may be with you on a long-term fostering placement (2 years or more).
In both cases, it's possible that the teenager may decide to stay with you for a number of years after they leave foster care - if that's what both you and the young person would like. This is thanks to an important piece of legislation that requires local authorities to support young people to remain with their former foster parents once they turn eighteen and are no longer officially classed as being 'Looked After'.
In England, this legislation is known as 'Staying Put', and 'Continuing Care' in Scotland. And while they might have different names, the aim of both pieces of legislation are to help better prepare young people who are leaving care and moving into independence.
There's no single set of requirements for fostering teenagers, but it helps if you have experience of building good relationships with teenagers - either through bringing up your own teenagers, or in a professional or voluntary capacity. You'll also need to be resilient, empathic, patient and committed to guiding them through this pivotal point in their development.
Finally, of course, you'll need to meet the basic criteria for fostering too:
Over 21 years old
Have a spare bedroom
Have the legal right to live and work in the UK
If you're ready to become a foster carer, then speak to a member of our team today on 0800 369 8512
Am I able to foster if I am working?
Yes, it's possible that you can work and foster – in fact, many of our foster parents do.
As well as the day-to-day care of a young person, you'll also need to attend regular training and meetings with the professionals involved in the young person's care. So as part of the application process, we'll speak about your circumstances just to check that you can meet the demands of caring for a teenager in your current employment, or whether you'll need to consider reducing hours or stopping altogether.
In our experience, everyone's circumstances are different, so it's always best to chat to one of our advisors if you have any concerns.
How much will I get paid for fostering a teen?
Our foster parents receive a generous fostering allowance, plus other benefits for each child in their care. This allowance is up to £27,000 - depending on your location, experience and the age of the child you're caring for – and is generally tax-free. You'll receive this allowance per child, so you could receive more if you're fostering siblings for example.
You'll also have access to exclusive discounts to shops, restaurants and family experiences using our rewards platform, The Exchange. Plus, our exclusive Refer-a-Friend scheme rewards you for successfully recommending somebody to foster with us.
Will I get paid if I have no placements?
Foster parents only receive a fostering allowance for when a child or young person is placed in their care. However, we have a dedicated Referrals Team who work around the clock to find the right foster child for you and your family.
How long does it take to become an approved foster carer?
The process to become a foster parent generally takes between 4-6 months from the moment you first enquire with us. We know that fostering is a big change for you and your family and will always move at a pace that feels right for you.
Will my spouse/partner also need to be assessed?
Yes, both yourself and your partner or spouse will need to be assessed to become a foster family. Choosing to become foster parents has to be a joint decision and so this ensures that fostering is right for you and that you're right for a teenage foster placement.
As part of the assessment, we will also need to complete background checks on everybody living in the household who is over eighteen in England and sixteen when fostering in Scotland.
Will I have to allow the child's parents to visit them in my home?
No, as a foster parent it will be part of your role to encourage and facilitate positive contact with the birth family, however, it wouldn't be expected for contact to happen at your home.
Maintaining close family ties is incredibly important for children and young people in care and so details around contact are usually agreed upon before a child is placed in your care. This will include details around the type of contact, frequency, time, venue, transport and supervision.
What training will I receive?
We have a wide range of training to support the development of our foster parents at every stage of their fostering career.
Our training programme includes:
Pre-approval training – providing you with the basic knowledge and skills you need to step into the fostering role.
Core training – a series of vital training courses that you'll complete in your first year of fostering that covers a wide range of topics including safeguarding, first aid, Secure Base, and more.
Advanced training – we have an entire programme of courses that cover more specialist topics such as autism, foetal alcohol syndrome, county lines, and more.
What are the different types of fostering?
We offer many different types of fostering so we can continue to meet the ever-changing needs of children and young people in foster care. These include short-term or interim care (up to 2 years), long-term or permanent care (more than 2 years and until the child turns eighteen), emergency, respite and more.
We also provide foster care placements that are considered specialist, including parent and child fostering and caring for children with disabilities or those seeking asylum. Learn about the different types of fostering below.
Can't find what you're looking for?
By phone
One of our team is available to talk to you over the phone to answer any of your fostering queries.
Enquire online
You can get in touch by filling out our online enquiry form with any queries that you may have.
Your local team
Find contact details for your local office team. We're always happy for you to pop-in and chat.