We're celebrating LGBT history month
We're dressing up for Purple Friday, to show our support of LGBT history month.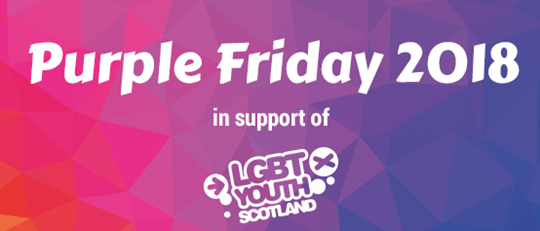 February marks LGBT History Month. Today, the last Friday of February (23rd), we are celebrating Purple Friday by dressing in purple to show support for LGBTI equality as part of the #EverydayHero initiative.
Purple Friday was first celebrated in Canada in 2010 and purple signifies the purple stripe on the LGBT Rainbow flag which stands for spirit.
This year's theme focuses on the #EverydayHero – the person whose small gestures promote an inclusive atmosphere for LGBTI people. It's about the little things like avoiding assumptions about people's partners, breaking down unnecessarily gendered language, making people feel included.
Our need for Foster Carers, from all walks of life, continues to grow. It's people's personal qualities that make them a great carer – not their gender or sexual orientation.
Like many other people from all walks of life, people who are lesbian, gay, bi or transgender, may be wondering if fostering is something they can do. The answer is a resounding yes. Above all we're looking for caring, kind people who can provide a loving home.
Subject to all the usual checks and processes, there is absolutely no reason why someone from the LGBT community cannot foster.
Our team works hard to create a truly inclusive organisation. We pride ourselves on the support we give to all our colleagues and Foster Carers, encouraging them to be themselves always.
You may also find interesting...
Can't find what you're looking for?
By phone
One of our team is available to talk to you over the phone to answer any of your fostering queries.
Enquire online
You can get in touch by filling out our online enquiry form with any queries that you may have.
Your local team
Find contact details for your local office team. We're always happy for you to pop-in and chat.