Trauma Teddies
The team at Fosterplus Edinburgh have been creating cute and colourful teddy bears which will be given to looked after children and those in traumatic situations.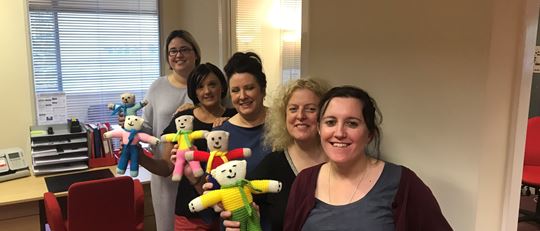 The Fosterplus Edinburgh office has been busy creating cute and colourful teddy bears for looked after children in the region.
Created by Australian firefighters, these teddy bears are knitted by members of the public then given to children who are in upsetting situations.
So after an appeal was released by Tasyside police, the Edinburgh office knew exactly what they had to do and quickly got knitting!
Fosterplus Edinburgh Service Manager, Chrise Hoban, said: "The feedback received has been great, the children and young people have loved them and are already gaining a great sense of comfort from the teddies"
These amazing teddies are now given as part of a welcome pack to all children and young people who are placed in care with Fosterplus.
Well done to all of the incredible Edinburgh team who are making young peoples transition into foster care a little more comforting!
You may also find interesting...
Can't find what you're looking for?
By phone
One of our team is available to talk to you over the phone to answer any of your fostering queries.
Enquire online
You can get in touch by filling out our online enquiry form with any queries that you may have.
Your local team
Find contact details for your local office team. We're always happy for you to pop-in and chat.