Team MK Take On 12-Hour Cyclathon for Children In Need
Read about our 12-hour cyclathon challenge undertaken by Milton Keynes team to raise money for Children in Need.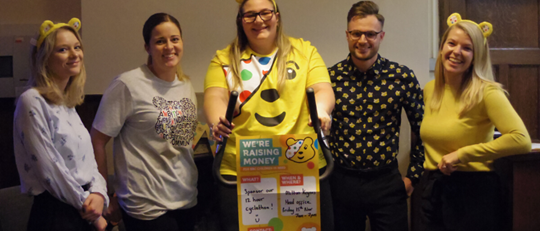 Our Milton Keynes team took on the impressive challenge of a 12-hour cyclathon on Friday 15th November, raising over £560 for Children in Need.
7 am marked the start of the cyclathon for the Milton Keynes fostering team who pedalled throughout the day in their Wavendon office. They continued to cycle for 12 hours, not stopping until they reached the finish line at 7 pm.
During the ride, volunteers wore yellow or dressed in spots, receiving sweet treats as motivation from friends and colleagues. Family and friends also took part and joined in the fun, whilst encouraging donations to the important cause.
Local foster families joined in from 4 pm, offering even more pedal power for the cyclists through the final hours of the ride. Guests enjoyed a fun kids party where children took part in quizzes and games, all in aid of the good cause.
Angela Turland, Registered Manager at Fosterplus, commented; "Children in Need is a fantastic initiative that we want to support. Working with children in need on a daily basis, we all know how important it is that they receive as much care and support as possible, so they have the skills and confidence to build a bright future."
Continuing, they added; "We really wanted to challenge ourselves and chose to put our fitness and endurance to the test with a 12 hour cyclathon! We hope that we can raise as much money as possible to support those in need, both on a national and local basis."
The 12-hour cyclathon was in aid of Children in Need, a national initiative led by the BBC. The annual event raises money for small and large organisations that support children and young people who are disadvantaged.
Currently, Children in Need support over 3,000 local charities and projects in communities up and down the UK who empower children and extend their life choices.
You may also find interesting...
Can't find what you're looking for?
By phone
One of our team is available to talk to you over the phone to answer any of your fostering queries.
Enquire online
You can get in touch by filling out our online enquiry form with any queries that you may have.
Your local team
Find contact details for your local office team. We're always happy for you to pop-in and chat.