Edinburgh Rugby Star Delivers Special Gift to Foster Child
A 13-year-old fan enjoyed a special visit from his favourite player at Edinburgh Rugby Club, after his rugby ball was stolen at school.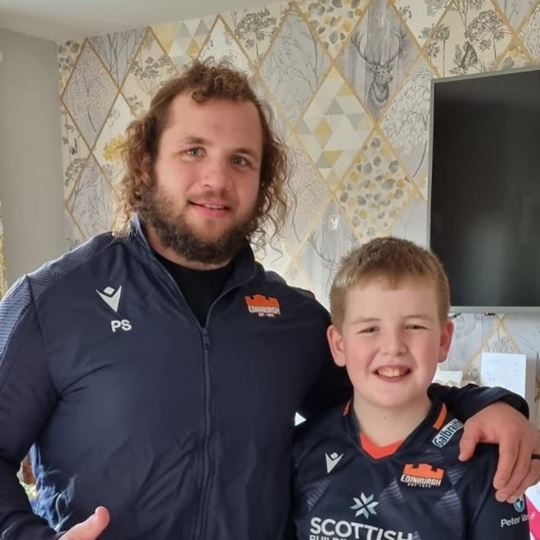 Rugby legend, Pierre Schoeman, delivered a package of Edinburgh Rugby gifts to *Kian, after his rugby ball was stolen at school.
 
Kian's foster carer, Colette, who has been fostering with Fosterplus Scotland for 8 years, reached out to the rugby club to ask if they could replace the ball and sign a new one for him.
Much to the family's delight, Schoeman made an appearance at the family's home, where he was greeted by Kian. He said "I was very surprised when Schoeman came to my house. I didn't know anything about the visit, and it was such a shock to see him standing at my front door! I felt truly honoured that he had chosen me out of everyone that he could have visited".
Talking about the surprise visit, Schoeman said: "It was a real pleasure to visit Kian and his family ahead of the festive 1872 Cup derbies. He is a massive Edinburgh Rugby fan and his passion for the team was so clear to see the moment I stepped in his house. Connecting with our fans and the local community is a huge part of what Edinburgh Rugby is all about, and we can't wait to see Kian back at DAM Health Stadium soon, where we know he'll be cheering on the boys with his usual excitement and passion".
Following the visit, the whole family were invited to the DAM Health Stadium where he delivered the match ball against Zebre Parma. Kian, who was treated to hospitality as a guest of honour at the fixture, spoke about his delight at being given the opportunity to play such a significant role on match day: "It was such a great moment delivering the match ball at the game! It's not something you would normally get the chance to do. It was amazing to meet everyone and see the players up close."
David Hancock, Registered Manager at Fosterplus Scotland, said: "It was lovely to see the smile on Kian's face when Pierre Schoeman arrived at his front door. You don't realise how much you can make a child's day just by one small gesture. We are very grateful to Edinburgh Rugby Club and to our wonderful foster parent, Colette, for arranging this surprise that has brought so much joy to Kian".
*Kian's real name has been changed for anonymity.
For more information about becoming a foster parent, simply call our friendly team on 0800 369 8512 or complete an enquiry form here.
You may also find interesting...
Can't find what you're looking for?
By phone
One of our team is available to talk to you over the phone to answer any of your fostering queries.
Enquire online
You can get in touch by filling out our online enquiry form with any queries that you may have.
Your local team
Find contact details for your local office team. We're always happy for you to pop-in and chat.