5 Tips to Keep Children Safe Online
Read our guidance on how to keep children safe online.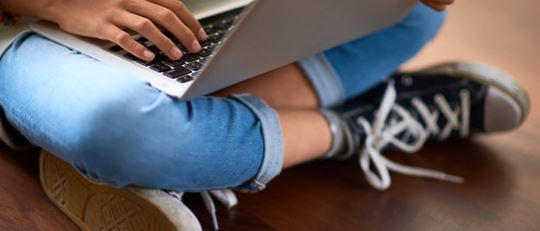 Today is Safer Internet Day, a globally recognised day that promotes the safety and wellbeing of children online. The internet is a great thing, providing children with opportunities to learn, play and connect with others.
However, it does not come without its risks. In fact, more and more, we hear about the emotional and safeguarding risks that children may become exposed to online, including online bullying, grooming, posting inappropriate content and more.
So, we thought we'd share some easy ways to help keep children safe online.
1. Place computers in a common area of the house
Don't allow children to use computers in their bedroom, instead try to keep them in communal, areas such as the living room or dining room. The presence of an adult in the room will often deter a child from visiting prohibited websites, as they're unsure what you can and can't see.
It's also important to tell your children to leave the computer in the communal area when finished. This way, you can be sure that they're not spending any extra time surfing the web unsupervised.
2. Set screen time limits
Children need set rules when it comes to when they should use their electronic devices and what they can and can't be using them for.
Guidelines suggest that:
Children under 18 months should avoid screen time
Children aged 18 months to 2 years can watch or use high-quality programs or apps if adults are with them, so they can understand what they are seeing
Children aged 2-5 years should have no more than one hour of screen time per day, with adults watching or playing with them
Children aged 6 years and older should have consistent limits on the time they spend on electronic media and the types of media they use
Children might need the computer for homework, in which case you may consider not including this in their allowed screen-time.
3. Discuss the dangers of the web little and often
Talking to children about the dangers of the internet is the best way forward. Telling them early on about safe online behaviour and about what unwanted content is out there, will make them more aware and cautious. Being open and approachable with them will help to open a two-way dialogue, where they will feel comfortable speaking to you about any issues or worries that they might have.
There are lots of helpful websites available to help you answer some of the tough and sensitive questions.
4. Check their privacy settings
Ask the children in your care about the social media apps they are using and then check their privacy settings are set up, so posted content can only be seen by people they are friends with. You may also want to check whether they have any apps, where 'geo-location' is enabled, for example Snapchat.
It's also a good idea to show them how to report offensive comments or block people who upset them.
5. Parental control tools
To reinforce the advice given above, the use of parental controls will most definitely be helpful and are offered across all Windows and Mac computers, iOS and Android phones and tablets, and gaming consoles. This is useful to block children's access to adult content as well as setting a time limit.
For even more control over children's screen-time there are devices and apps such as Circle with Disney that allow you to limit the hours spent online each day. They are especially helpful if the children in your care use multiple devices as these can all be controlled from one place.
For more information about Safer Internet Day visit www.saferinternet.org.uk.
Thinkuknow have produced two new presentations for parents and carers of primary and secondary aged children, which you can view here.
You may also find interesting...
Can't find what you're looking for?
By phone
One of our team is available to talk to you over the phone to answer any of your fostering queries.
Enquire online
You can get in touch by filling out our online enquiry form with any queries that you may have.
Your local team
Find contact details for your local office team. We're always happy for you to pop-in and chat.