"It's good to know everyone's culture. If it's important to the child or their family, then we do what we need to do."
Super parents, Maryelen and Billy, share their inspiring story which has led them to foster over 50 children and create a charity close to their hearts.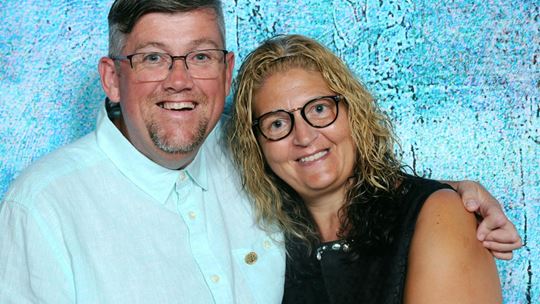 Super parents Maryelen and Billy have looked after dozens of children over the past two decades. Maryelen spent some time chatting about her three children, three adopted children and the 54 foster children they have shared a home with.
Looking after children in the community was something that Maryelen just knew she needed to do. With her husband Billy, she has been doing it for the past 22 years, fostering more than 50 children during that time.
"One of our first placements was a kid with a neurodivergence, something like ADHD and we handled that really well," she said. "After that, we seemed to be getting a lot of kids with similar conditions and at first it was a bit like 'oh my God!' but we quickly learned how to parent differently. Kids with any kind of brain-based condition need to be parented differently, normal parenting doesn't work for them.
"We ended up looking after so many, mainly due to respite, but during our journey we ended up adopting three children, including babies.
"'No you're not having a baby!'" she recalls Billy saying. "It's the one thing my husband said 'no' to but then I received a call from my social worker saying they had a baby that needed placement and I said I'd be there in two minutes and away I went. I ended up adopting him."
Maryelen is a mum to six children (three of which she and Billy adopted), and is currently fostering a 10-year-old boy, who arrived just before his eighth birthday and she has permanent care of him.
When asked to describe her current foster child, Maryelen was excited to chat about how funny and curious he is, especially when it comes to his heritage and culture.
She said: "He's always wanted to know his culture and where he's from. He knows he's Nigerian, and so we decided to learn about it. He doesn't have much contact with his birth mother, so we're finding ways for him to find out who he is and feel connected to his heritage. He thrives on it."
Maryelen explained that it's so important for foster children to feel connected to the things that make them unique: "It's good to know everyone's culture - I try to learn as much as I can so I'm not offending a child or their birth family. I don't ever want them in an awkward situation. And if it's important to the child or their family, then we do what we need to do. My husband is the same, we do what we can to make them feel comfortable and I think it's our duty to make that happen for them."

Maryelen has also founded a charity to support children born with Foetal Alcohol Spectrum Disorder (FASD) after all three of her adopted children were born with the condition and urges anyone thinking of fostering to learn more about disabilities, in particular those that affect infants and young children.
"I think you need as much training as you can get on kids with disabilities," she said. "One in 20 children in Scotland have FASD and roughly 95% of the children in the fostering and adoption systems have the condition so we really need people with good knowledge."
If you would like to learn more about fostering, get in touch with us today. Or read more about becoming a foster parent to find out more about the process and what's involved. 
You may also find interesting...
Can't find what you're looking for?
By phone
One of our team is available to talk to you over the phone to answer any of your fostering queries.
Enquire online
You can get in touch by filling out our online enquiry form with any queries that you may have.
Your local team
Find contact details for your local office team. We're always happy for you to pop-in and chat.