"It's building that relationship between the brothers that we just love to see"
Lisa and her husband, Andy, share their experience of completing the fostering assessment and welcoming brothers into their home in the middle of a global pandemic.
Lisa and her husband, Andy, who are based in Doncaster, were inspired to become foster parents whilst on holiday in Egypt many years ago.
During their holiday, the couple met a young woman and soon discovered she was once a child in foster care. Once they had discussed the process and learned more about her experience living with a foster family, they thought that it was something they could see themselves doing. Lisa and Andy returned home and conducted further research before deciding they wanted to start the process and become foster parents themselves.
Lisa explains; "Initially we were not in the position to foster, so we waited until we moved into a bigger house and it felt like the right time and place to begin our journey as foster parents."
Lisa had previous experience working with children, as she explains; "I spent ten years working at nurseries, where I worked my way up from a nursery assistant to a nursery manager, taking care of two sites. This meant that I had lots of experience working with children and a good understanding of the paperwork that is involved."
As the couple's fostering journey began in May 2020, most of the fostering assessment took place virtually due to the coronavirus pandemic, as Andy explains; "Although a lot of the process was done virtually, it worked out well for us. We were able to manage it at times that were more suitable for us, and there was so much more time to build a relationship with our lovely assessor ready for panel."
In October 2020, the couple were approved at panel and shortly after welcomed two brothers into their home. However, fostering during the pandemic has brought many challenges to the family, as Andy explains; "It is such a shame that there are so many things that aren't open, such as the soft play areas, zoos and swimming baths, which means we haven't been able to take the children to the places we usually would have liked to."We have been lucky in the way that we are able to take the boys to local playgrounds, which they absolutely love! We have spent a lot of time there, especially during half terms."
Lisa continues; "We have a support network with other parents, friends and family – but obviously we haven't really been able to see people or visit like we would normally do, which has been hard for us as a family.
Andy and Lisa believe the pandemic has allowed the family to have more quality time together, which has helped the boys settle: "We have had all of this extra time together during the pandemic, which has meant that we have been able to get to know the boys that bit better. The boys have been loving the time and attention and that is great to see from our perspective."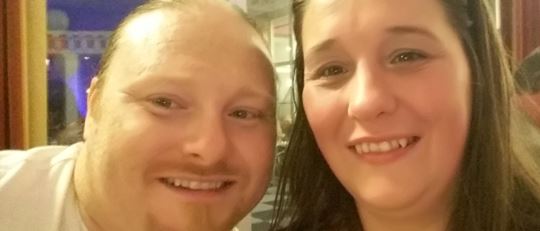 Andy explains that when the boys first came to them, the brothers had a difficult relationship: "When they first came, they didn't have much of a brotherly bond, but we have been teaching the boys to recognise that they are brothers and to look after each other."
"One of the most special moments so far in our journey was when we went to the park a couple of weeks ago and the older brother helped his younger brother with the zip line. He ran it up to the platform, lifted his little brother up and let him have a go. They were both smiling and laughing! It's the small differences like this that really warm your heart. It was a lovely moment to watch.

"There are good days and bad days of course, that is fostering, but it's building that relationship between the brothers that we just love to see."
"We think the reason that they have developed so quickly into more relaxed, happy children in only two months, is down to the consistency and boundaries that we have implemented into their lives. They're now two caring, happy, young boys."
Andy and Lisa believe it is the support they have received from Fosterplus that has been the difference: "Our supervising social worker is fantastic, from the beginning, she asked us to outline what our rules, boundaries and expectations are for the children, so they would know right from the start what was expected of them. The children now know that if they do something wrong there are consequences, and this has encouraged them to learn and develop.
"Now that the boys are more settled, they have a star chart and that also works really well for them to see their progress."
"The entire team at Fosterplus have been so supportive. There's always someone available to help us where needed and for that, we are so thankful. We had regular phone calls at the very beginning to see how we were doing and if we needed any advice. They really do so much to help and support us, and we actually really look forward to chatting with them!"
Andy explains that the matching process with Fosterplus worked really well for the couple: "The matching process at the beginning was great and we were matched so well with the boys. Fosterplus have spent so much time and effort on matching us with the right children and have done extensive research to make this experience great for us. It is also worth noting that the support and training we've received has been brilliant."
Lisa continues; "We really look forward to the training now because we are able to meet other foster parents from up and down the country which is great. We are able to learn from other foster parents, both good and bad experiences as well as share our own experiences, which really helps our understanding of the whole process."
Andy and Lisa's best advice to anyone considering fostering is to be prepared to put in the hard work, research and training: "Fostering is something that you can progress with, it's potentially a long-term investment, so be prepared for it.
"Make sure you go with the right fostering agency for you, like we did, because we are so very lucky to have the support that we do from Fosterplus. Be prepared for the lifestyle change and be patient, patience is key!
If you would like to learn more about fostering in Doncaster, why not each in touch. One of our team members would love to tell you about the process, our support package and generous foster career pay allowances to help you decide if it's right for you.
You may also find interesting...
Can't find what you're looking for?
By phone
One of our team is available to talk to you over the phone to answer any of your fostering queries.
Enquire online
You can get in touch by filling out our online enquiry form with any queries that you may have.
Your local team
Find contact details for your local office team. We're always happy for you to pop-in and chat.