"I can't imagine life without our children in it"
Kenny and Brenda share their experience and advice as both fostering and adoptive parents over the past decade.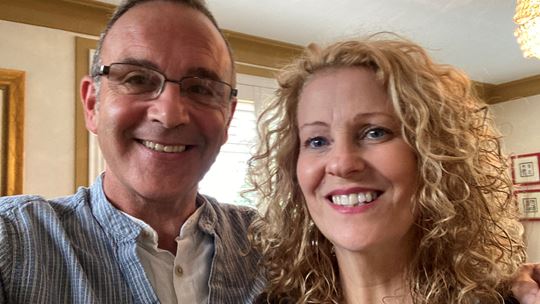 First starting their fostering journey back in 2008, after a couple of years of respite fostering and not having birth children of their own, Kenny and Brenda decided to embark on a permanent fostering journey.
Both having worked with vulnerable people throughout their careers, the couple always had a desire to foster children and young people.
Knowing from early on that permanent children and siblings were for them, the couple welcomed their first duo back in 2011. Brenda said: "Our son was seven and his sister was only five when they came to us on a permanent fostering arrangement. We very quickly came to the agreement that we wanted to proceed to adopt them both which then became official in 2013."
Reflecting on their journey with their first two children, Brenda said: "We found that once they had settled in our home and family, they often expressed to us how they wished they had young siblings.
"After a number of conversations, they were on board with us all giving fostering another try and to take on another sibling group again." Kenny added: "We knew permanent fostering was for us and especially for the children and that is just what happened."
In 2019, the couple then welcomed three siblings, turning the family household into a wonderful seven members.
Kenny and Brenda said they will always remember the day the three siblings joined their family. Brenda shared: "It was the afternoon of Halloween and that day already holds a special place in our heart, as it was the exact same day Kenny and I first met back in 1981."
The process has unsurprisingly brought its challenges. "Lockdown has certainly exacerbated our challenges but overall, the introduction of three new siblings has ultimately been very positive. It has taught our oldest two to learn how to share and to be patient."
One tip the couple shared was to make sure you spend time with all the children, together and separately. Kenny commented: "We always make time for them. When the youngest three go to bed on a school night, the older two tend to stay up a little longer so we can do a movie night. It is a great way to let them know we still have time for them."
Brenda added: "It is tricky when you have five children to make time for them, to make time as a couple and for yourself, but it is doable, and it is worth doing."
For Kenny and Brenda, some of the most rewarding moments have been seeing how far their children have come in both mental, emotional and academic forms. Kenny shared: "When our oldest boy first came to us, he couldn't read or write. Fast forward to this present day and he is now a different boy. Now with several A-levels under his belt, that was a proud moment for us as this is a life skill that will unlock so many doors for him in his life."
Travelling the world is one activity the family love to do together. Usually going on holidays every year, the family had to temporarily stop due to the pandemic, however this year the family planned a break away to a villa in the South of France.
Brenda shared: "We have this wonderful family tradition where we stop an hour before the villa, change into our swimwear, and once we arrive, we all run and jump into the pool together. It is honestly one of the best ways we kick start our family holidays."
For those looking to follow in the couple's footsteps, Brenda shared some advice: "Every single day, even on the challenging days, I thank my lucky stars we took that initial leap to foster.
"It is life-changing but it is also life-enhancing and I can't imagine life without our children in it. It is busy, it is noisy, and it is challenging at times, but it is absolutely worthwhile."
Kenny shared: "Go for it. It is a long process; it may seem never-ending at some points, but I can say without a doubt that it is totally worth it in the long run."
If you would like to learn more about long term fostering today, why not each in touch. One of our team members would love to tell you about the process, our support package and generous foster career pay allowances to help you decide if it's right for you. Not ready to chat yet? No problem, why not read about how to become a foster parent.
You may also find interesting...
Can't find what you're looking for?
By phone
One of our team is available to talk to you over the phone to answer any of your fostering queries.
Enquire online
You can get in touch by filling out our online enquiry form with any queries that you may have.
Your local team
Find contact details for your local office team. We're always happy for you to pop-in and chat.