8 Ways Dogs Can Help with Depression, Stress, and Anxiety
A dog can bring so much to your family, and even help alleviate symptoms of depression, stress, and anxiety.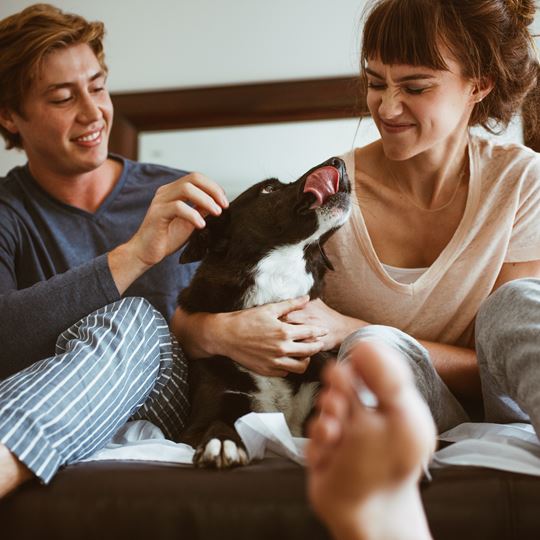 Dogs are a great addition to a home. They are fun, affectionate, provide comedy, and they can even alleviate symptoms of depression, stress, and anxiety.
It might seem too good to be true, but your four-legged friend does more than make you laugh when he trips over his tail!
For parents of foster children, a dog in the home can be particularly helpful, especially if you are fostering disabled children or children who have experienced trauma and emotional difficulties. The presence of a dog can quickly alleviate feelings of anxiety and help a child relax and settle into the home.
If you want to learn more about all the great things your beloved dog can do, here are eight ways dogs can help with depression, stress, and anxiety.
1. Easy socialisation
One of the struggles many foster children experience with entering a new home is feeling shy. This can cause anxiety and stress and make them feel left out of the family circle, no matter how hard you try as a foster parent. Dogs can help with this.
A dog in the home provides much easier socialisation for everyone. Foster children, especially, won't always want or feel like they can open up to people, but spending time with a dog is a zero-obligation form of social interaction. They can hang out with the dog without speaking, which can be enough to feel more comfortable.
2. Making you laugh
Laughter has an amazing positive impact on your mental health. The more you laugh, the better you feel. So, if you are struggling with depression or you are supporting your own children or children in care while they might need a bit of a lift, a dog can certainly provide that.
Whether he is being overly cuddly or sneezing like a human, your dog is sure to provide you with plenty of laughter over the years. Just remember to take videos of him so that you can look back in the future and laugh all over again!
3. More exercise
Everybody knows how important exercise is for both your physical and mental health. Not only does it improve your fitness levels, but it also alleviates feelings of anxiety, stress, and depression, leading to a happier you. With a dog, you are obligated to exercise, as they need plenty of walks to stay happy and healthy.
If you are caring for foster children, these dog walks can be a way to get them outside, exercise, and bond as a foster family. It might even turn into your foster child's favourite part of the day!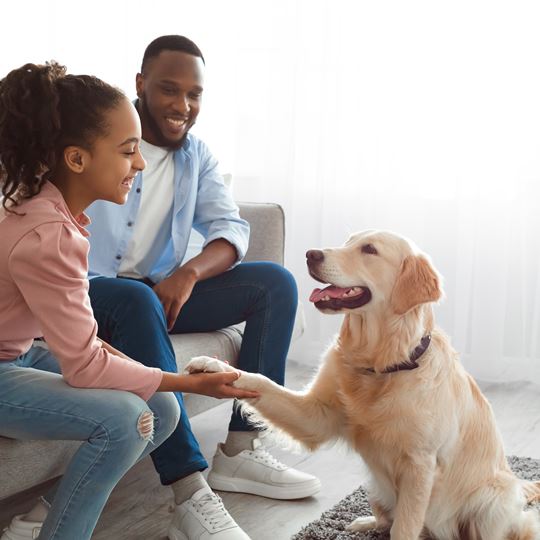 4. A sense of responsibility
There is something quite healing about having someone else to look after. Even if you are feeling stressed and anxious, knowing that you are responsible for another creature can help those feelings disappear as you focus on ensuring they are happy and healthy.
For children and foster children, this sense of responsibility is especially helpful, as they might have never felt responsible for much of anything in their life. If they feel like they have some control over your dog's care, they are more likely to feel respected and appreciated, which can do wonders for their mental health.
5. Feeling less lonely
Being alone can be nice sometimes, but too much of it can lead to feelings of depression, isolation and anxiety. A dog can help with this. While your dog might not talk with you about the latest goings-on in the world, he is still a friend that is there for you through thick and thin.
For foster children, having a dog around means never feeling lonely, no matter what. Even if they don't want to talk, they can sit with the dog to feel more comforted and less lonely.
6. Better habits
Having a dog means getting up early, going for walks, and feeding them at the correct times. All of this leads to better habits in your own life. In fact, looking after a dog can even improve your own self-care habits!
Be sure to get your foster child involved in looking after your dog, as it will help them create healthier habits for the future that can fight off feelings of stress and anxiety.
7. Getting outside
Staying inside all of the time can increase depression and anxiety. One of the main reasons for this is a lack of sunlight. With a dog, you will be outside a lot more, whether that's for throwing a ball in the garden on an afternoon or taking them for their daily walks. Being around nature and in the fresh air and sunshine is sure to lift anyone's mood.
8. Unconditional love
A dog loves you unconditionally. Even if you get home late from work or forget to put the dishes away, he will still jump at your feet and cuddle you until bedtime.
Unfortunately, many foster children will never have experienced unconditional love in the way that they should have. If you plan on becoming a foster parent, owning a dog will show them that the world isn't all scary – that some things are pure and full of love.
If you would like to know more about fostering, then please get in touch with our team here.
You may also find interesting...
Can't find what you're looking for?
By phone
One of our team is available to talk to you over the phone to answer any of your fostering queries.
Enquire online
You can get in touch by filling out our online enquiry form with any queries that you may have.
Your local team
Find contact details for your local office team. We're always happy for you to pop-in and chat.