How to Support Children with a Different Cultural Background
Foster children are usually matched with foster families of the same cultural background. However, on the rare occasion you are caring for a child of a different ethnicity or background to your own, here are 7 tips for supporting them.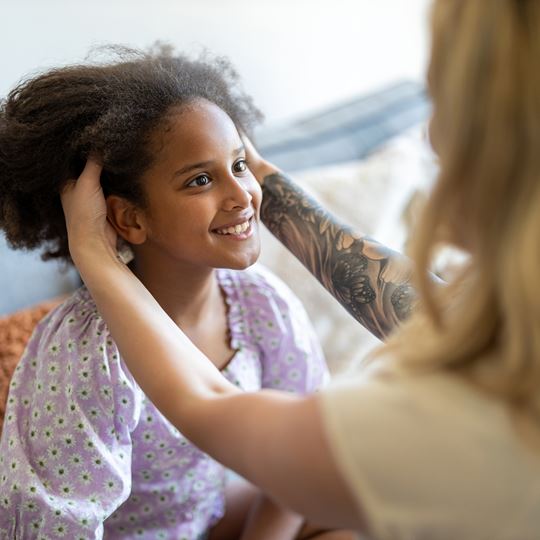 There is always a great need for foster parents across the UK and, additionally, a need for families of diverse ethnicities and cultures.
Children and young people in care have usually experienced a great deal of instability, so it is crucial that a foster family can offer them the comfort and security they need. This can be a challenge for all foster parents, but especially when welcoming a child whose ethnicity or culture is different from their own.
The matching process involved in fostering is extremely significant. At Fosterplus, we are recognised for our complex and enhanced process; giving full consideration to each child's age, gender, ethnicity, cultural background, religious beliefs, sexual orientation and any disability or complex needs they may have to ensure the best match with a family possible.
We recognise that a foster child will fully thrive within a family of a similar ethnicity and culture so that they can feel comfortable, see likeness and similarity in the people and surroundings, practise their religion, celebrate ethnic holidays, and be supported to feel proud of their identity and heritage.
Fostering agencies strive to place foster children with foster families who share the same ethnicity and cultural background, however occasionally this may not be possible.
If you are caring for a foster child of a different background, it is important that you offer stability, love and nurture in a way that supports the culture that they have grown up with.
7 Tips for Fostering a Child of a Different Ethnicity or Culture
Here are our 7 Tips for Fostering a Child of a Different Ethnicity or Culture from your own:

1. Research 
When a child is placed with you, there will be a lot to learn about their background and culture, including the food they eat, clothes they wear, music they listen to, religious beliefs and cultural celebrations. You will be given as much information as possible from a child's referral, but the rest can be found through researching online and reading relevant books to help you feel as prepared as possible.
2. Improve communication
In the unlikely event that a foster child speaks a different language, it will help to learn some basic words and phrases in advance. Fosterplus and your social worker will fully support you by sourcing any translation and support services you may need.
3. Talk to the child
Depending on the child's age, take some time to have an honest conversation with them, listen to what they have to say, and consider ways you can support them further.
4. Introduce cultural details 
Once you've researched different aspects of their ethnic and cultural background, make some adjustments to help them feel at home. Cook meals that they like to eat, buy in any clothing or hair products they need and source any music or entertainment applicable to them.
5. Celebrate their culture 
Take some time to identify any traditions, festivals or holidays relating to your foster child's culture. Wherever you can, help them to celebrate these and experience new traditions as a family and within the community.
6. Encourage social opportunities 
It is important that your foster child has the chance to spend time with people who are like them and share the same interests. You could look into local events or groups, as well as relevant after school activities.
Likewise, if a child follows a particular religion, take them to places of worship or celebrations in the local area.
7. Seek support
As a foster parent with Fosterplus, you have a massive support network around you so be sure to make full use of it. You are never alone, and there will always be a dedicated team to support you and provide information, 24 hour support line and online resources, local support groups and other foster families to connect with.
Together, we can all ensure foster children in our care receive love and support, are able to grow, and feel proud of who they are - whatever their ethnicity or background. 



If you are interested in caring for a child or young person, find out more about becoming a foster parent with Fosterplus.
You may also find interesting...
Can't find what you're looking for?
By phone
One of our team is available to talk to you over the phone to answer any of your fostering queries.
Enquire online
You can get in touch by filling out our online enquiry form with any queries that you may have.
Your local team
Find contact details for your local office team. We're always happy for you to pop-in and chat.