Firefighter Shares Fire Prevention Tips at Carer Support Group
It's important to be aware of fire safety, especially within the home. One of our foster parents who is a Firefighter shares their guidance on fire prevention in the home.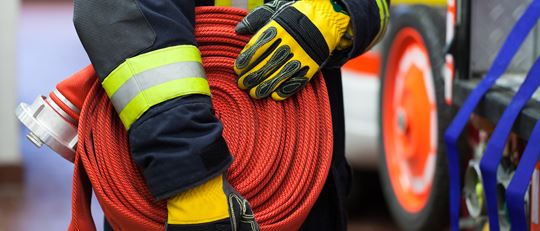 A Long Eaton Firefighter and Foster Carer talks to our carers about common causes of fires in the home, as well as sharing some useful tips on prevention.
Here's some of the key things we learned from the talk…
Candles are one of the most common causes of fires in homes – In 2014, candles were the cause of 1,087 fires in the UK. Tea lights in particular are a risk because the bottoms can become hot enough to melt and ignite the plastic surfaces they are placed on – for example, the edge of a bath or top of the TV – with devastating results.
Check your smoke alarms every week – It's important to check your smoke alarms every week – something we all know we should do, but sometimes forget. To help make it part of the household routine, why not check the smoke alarms after putting the rubbish bin out to be collected each week?
Buy 10 year batteries – Buy alarms with sealed 10 year batteries, to save having to replace the batteries every year.
Home visits & fire risk assessments – The role of the fire service is increasingly about helping to reduce the number of fires. This includes visiting people at home to assess the risk of fire, providing advice on improvements and fitting smoke alarms. This service is available in most areas and if you are interested, the contact details for your local fire station and the services it provides are available at here. This website also offers a wealth of other advice about fire safety and several leaflets to download.
Thank you to everyone who attended last month's Foster Carer Support Group, we hope you found it useful and look forward to the next.
As always, if you have any questions or worries please get in touch with your social worker who will be happy to help you.  If you could make a difference to a child or young person by becoming a foster parent and would like to find out more information, click here.
You may also find interesting...
Can't find what you're looking for?
By phone
One of our team is available to talk to you over the phone to answer any of your fostering queries.
Enquire online
You can get in touch by filling out our online enquiry form with any queries that you may have.
Your local team
Find contact details for your local office team. We're always happy for you to pop-in and chat.