If you're a natural when it comes to children, there are plenty of jobs out there where you can put your skills to good use. Here are some career ideas for mums or dads looking to work with children. 
For many of us, our careers need to be more than just a paycheck. It's about having that passion to make a real difference. Jobs that involve working with children are incredibly rewarding, as you get to inspire, influence and help make the lives of little ones better. They are also perfect career options for mums, as it allows you to use your knowledge, experience and love of children to make a living.
Whether you've been a stay-at-home mum and are now looking for your next challenge, you're looking for a career change or are searching for an alternative job to teaching, here are the best jobs for people who are good with kids.
How to know if a career with kids is right for you
While working with children and young people can be a rich and exciting experience, it doesn't suit everybody. Here's how to know if you're cut out for a child-centric career.
You enjoy the company of children
This is, for obvious reasons, an absolute must! Little ones need a lot of attention and can be quite demanding. To thrive in a job working with children, you need to enjoy playing with them, talking to them, helping them with practical needs and take joy in being around them – come rain or shine.
You are compassionate and empathetic
All children are different. Some love being the centre of attention, while others can be painfully shy. Some are naturally obedient, while others like to push boundaries. Some have stable homes, while others may have a troubled homelife, such as children in foster care.
To be successful in a child related career, you have to treat each child with the same level of care and compassion, no matter their behaviour.
You're resilient
One thing is for certain when it comes to kids, and that is that they like to press your buttons! From asking a thousand questions to being defiant, moody and disobedient, you need to be mentally strong to deal with the unpredictability that comes with working with children.
You can stay calm during stressful times
Children often look to adults to help them determine if everything is okay. If they see you stressed and panicked, it's likely they will follow suit.
Working with children can sometimes mean you're put in stressful situations, such as when they hurt themselves or they're having an angry temper tantrum. It's important you're able to stay calm, assess the situation and make rational decisions for the sake of their wellbeing.
You have lots of energy
Children are super playful, inquisitive and active, so they need adults who are able to keep up with them. While you don't need to be able to run a marathon every day, it's helpful in a career with kids that you have a playful spirit and enjoy being active too.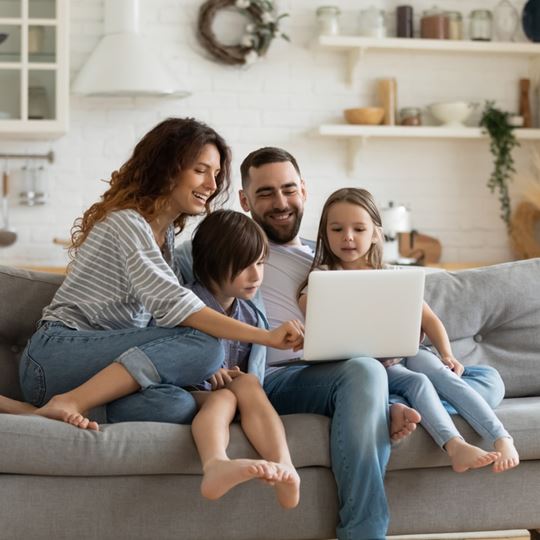 5 good careers for mums or dads who love children
Let's take a look at some career change ideas for mums, dads or anybody who wants to help shape the lives of the next generation.
Early years practitioner
Working in childcare is a hands-on job, and no two days are the same, making it a very varied and stimulating role. From messy playtimes and fun singalongs, to organising learning games that are age-appropriate, the role of an early years practitioner helps little ones with their physical, educational and emotional development.
Jobs like this make good careers for single mums, as you could enroll your own child at the same nursery.
Teaching assistant
Teaching assistants, or TAs, provide necessary support to individual children or small groups of children who might be struggling in some capacity, as well as supporting teaching staff with the standard curriculum.
It's an opportunity to make a positive impact on a young person's learning, especially those children with special needs or learning difficulties.
This role is a good career change for mums, or anyone who is considering being a teacher, as it exposes you to a wide range of teaching skills and experience.
Paediatric nurse
It's always sad to see, but children do unfortunately get sick. That's why it's vital that the people in charge of their medical care have a natural ability to make kids feel at ease.
If you're interested in nursing and also want to bring smiles to children's faces during difficult times, a career as a paediatric nurse could be the way forward. Having a sunny disposition and friendly demeanour, alongside a solid medical background, are great qualities that could help you thrive in this environment.
Social worker
If the safety and welfare of children is something you're passionate about, you might want to consider a career in social work. It's a tough role, but social workers are at the front line of defense in many ways, and can often be the only chance a child has at being saved from an unsafe environment. You're there to assess if a child is properly being cared for, and are responsible for making the decision to place a child in foster care.
You need to be highly observant, pragmatic and logical, but you also need to be compassionate and considerate to influence positive change in a household. You could be working with victims of domestic violence, or in areas notorious for poverty, so you have to be careful with your approach and be able to adapt to different family dynamics.
Foster parent
Becoming a foster parent is a truly lifechanging career choice for people who love children and want to transform their futures. It's a role that is totally dedicated to a child's wellbeing, happiness, and security. Not only do you give vulnerable children a home when they can't live with their birth parents, but you give them the unwavering love, care and attention they might not have been getting at home.
The role of a foster parent can have the biggest impact on a child's life, even if the child is only in your care for a short time. Many kids in care have experienced abuse or neglect, and are lacking in their social and emotional development. Our foster parents help these young people heal from their trauma and make positive steps to a brighter future.
Being a foster parent includes:
Caring for and parenting a child when they have to be removed from their home.

Ensuring the child attends school and is on top of their learning.

Helping to maintain contact with the child's birth family.

Meeting regularly with social workers to discuss the child's progress, health and wellbeing.

Providing the necessary structure a child needs to thrive and develop.

Building their confidence and encouraging their healing.

Learning how to manage challenging behaviour and influence positive change.

Providing respite support for other foster parents.
What's more, your home is your workplace, which is why it's also one of the best careers for stay-at-home mums.
All you have to do is be willing to give children in need the chance of a better life.
Do you get paid for being a foster parent?
Absolutely! All of our foster parents at Fosterplus receive a generous fostering allowance to help cover the costs of caring for a child and to also reward them for their hard work. The amount you receive depends on the age of the child, how many children you foster at once, the nature of the placement and your location, but you can expect to receive between £17,555 and £28,078 per child, per year.
Alongside your allowance, you'll also receive bonus payments, rewards and benefits, and exceptional support in all areas of the child's care. This includes having a dedicated social worker, a 24/7 helpline, a meticulous matching process to ensure the success of a placement, excellent training opportunities and regular support groups, events and activities to stay connected to other foster families.
Could you foster a child?
Fostering a child is solid career advice for mums and dads, but you don't actually need prior experience of looking after a child. As long as you have the commitment to change a child's life, are aged 21 or over, have a spare bedroom a child can call their own and have the right to live and work in the UK, you could make a fantastic foster parent.
Get in touch with us today to see if fostering is right for you. There are thousands of children waiting for you to make that first step so they can find a safe and loving home.
Reasons to join Fosterplus...
Can't find what you're looking for?
By phone
One of our team is available to talk to you over the phone to answer any of your fostering queries.
Enquire online
You can get in touch by filling out our online enquiry form with any queries that you may have.
Your local team
Find contact details for your local office team. We're always happy for you to pop-in and chat.