"Fostering has not only made our family physically bigger, but bigger in terms of love"
Jemma and Guy have been fostering for over five years and share some of the wonderful memories they have as a family that fosters.
After first meeting in the Youth Offending services and during their first date together, Jemma and Guy soon came to realise they shared the same passion and desire to give children a brighter future.
The couple went on to have three of their own children, but Jemma expressed it wasn't until an afternoon at the swimming pool with her sister did their fostering journey officially begin. "There was a Fosterplus advertising campaign in the foyer and my sister said, 'Jem you have always wanted to foster, why don't you chat to them' and with that, I went home, and we had a chat about it and really the timing was right, so we decided to pursue our journey."
Fostering came very naturally to the couple. Guy explains: "having worked in the Youth Offending service and with younger children, one of the main reasons we became foster parents was because we believe prevention is better than cure. We always knew if we had the chance to help a child, we would."
Jemma added, "fostering has enhanced our family. It feels really good to know you are able to give back and know you are doing something positive for somebody and supporting them to become the best versions of themselves."
With three of their own birth children between the ages of 5 and 12, the couple expressed the experience has been really positive for all of them. When asking their son, Hector, who has special educational needs (SEN), what his thoughts were of his older foster sister he said, "she is lovely, caring and brings us plenty of joy. She plays with us when we are lonely but is rather annoying when she is on TikTok."
Jemma said: "she has been absolutely amazing with Hector, she is so patient, gentle and understanding. She has been a real help for us in supporting him."
Larni, their 8-year-old, who refers to Lucy* as her big sister, said that "I enjoy having her around because she plays with me and bakes cakes and helps me. One of my favourite things that we do together is baking because when we go into the cupboards, she always eats the sugar."
As a family of animal lovers, the Jewkes household have an abundance of animals which has actually played its part in their fostering experience. Jemma said that Lucy* is one of the reasons why we have so many animals. "She loves all the animals but particularly the dog. Since we lost our older dog, we now have a puppy, and she has really enjoyed taking on the role of teaching her tricks."
Recalling a time when the family welcomed a goat into their home, Jemma said, "the first night the baby goat was at our home, the goats were a bit scared and she was cuddled up with them and said, 'I know how scary it is being in a new house on your own and I'll look after you and stay with you, don't worry they are really nice, it'll be okay'."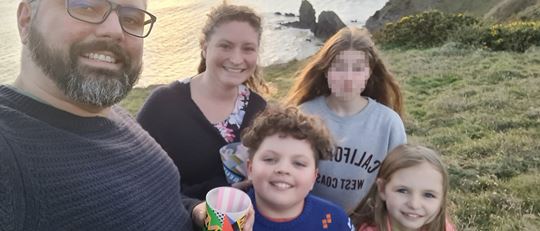 While reflecting upon some of their most rewarding moments, the couple praised how far their Lucy* has come since joining the family. Guy shared that; "She has become a very nurturing and caring individual, becoming an older sister for the family."
"She used to write songs about how she felt, some songs would bring a tear to your eye and she actually sang them on stage. She doesn't really do that anymore because, with our support, she is happy and confident to talk about her emotions."
"We discovered providing journals that allow her to write down her feelings really helped. We always wanted to get across that it is possible to live in a family without violence and shouting."
Another positive the couple have drawn from their experience is that they have enabled Lucy* to maintain contact with her birth family. Jemma said: "I actually fought for that because she has a fantastic relationship with her dad, he is a great influence for her which in turn is very positive for them both."
"Unfortunately, the contact with her mum has been less positive so we have supported her through this. Over the years she has processed her feelings and can now realise and choose what is best for her."
The couple expressed something they have struggled with over the course of the pandemic was adapting virtually. As a family who loves attending the Fosterplus social events, Jemma said, "I really miss my fostering networks and planning to meet up with them as I do consider them as my foster family."
"Since Guy works full time, I generally do the outward-facing fostering networking just as they are my support group but as a family, we love to go to the events together. I do miss seeing them in person and having that in-person connection, it definitely has been one of the more difficult things to get used to."
"Pre-coronavirus, there were lots of fun Fosterplus activities from the training courses to events. I really miss the days out because we used to go to Christmas parties, Halloween events, the theatre, ice skating.  The online support has been equally great but as a family we just prefer to do stuff in person."
Lani added: "I really like going to the Fosterplus events because there is always cake and one of my favourite things we did was ice-skating because I didn't know how to do that before."
With the help of their support worker, family members and even fellow fostering families through Fosterplus, the Jewkes family believe a good support system has helped dramatically in their five years of fostering. Since the pandemic, Jemma shared that; "We actually had coronavirus, we had many of our friends delivering parcels to our gate, so we have so many positive and supportive relationships."
"I have always felt really supported by our Fosterplus social worker, Angela (Fosterplus Registered Manager) has also been a fantastic help. When she used to come to visit us, she always remembered to bring her wellies to see the animals and Lani always baked her a cake".
For those thinking about fostering, Jemma said; "Go for it, try it. There are so many networks and support groups out there so if you are ever worried, ask others. I think it is important to just go for it but in doing that, work out your boundaries."
The fostering assessment process is there for a reason.  Guy explains: "The process to become a foster parent can take a while and some people going through it will realise it is not for them and that's completely fine. If you do get to the end of the process and still want to foster, then just focus on getting the right match for you and your family."
Jemma added, "For us, since we have had our own children, children who were looking for a permanent home suited us better as we didn't want children in and out of the family, but everybody is different and have different needs, but it is very rewarding."
"There are so many different types of fostering like emergency, short-term, respite, long-term, disability and family support placements. If it is something you want to see if it is right for you, you could always try being respite parents first then go into short term and so forth."
"Every child is different, but we have found for us is that the love and positives, far outweigh the challenges of it all.
If you would like to learn more about fostering today, why not each in touch. One of our team members would love to tell you about the process, our support package and generous foster career pay allowances to help you decide if it's right for you. Not ready to chat yet? No problem, why not read about how to become a foster parent.
You may also find interesting...
Can't find what you're looking for?
By phone
One of our team is available to talk to you over the phone to answer any of your fostering queries.
Enquire online
You can get in touch by filling out our online enquiry form with any queries that you may have.
Your local team
Find contact details for your local office team. We're always happy for you to pop-in and chat.